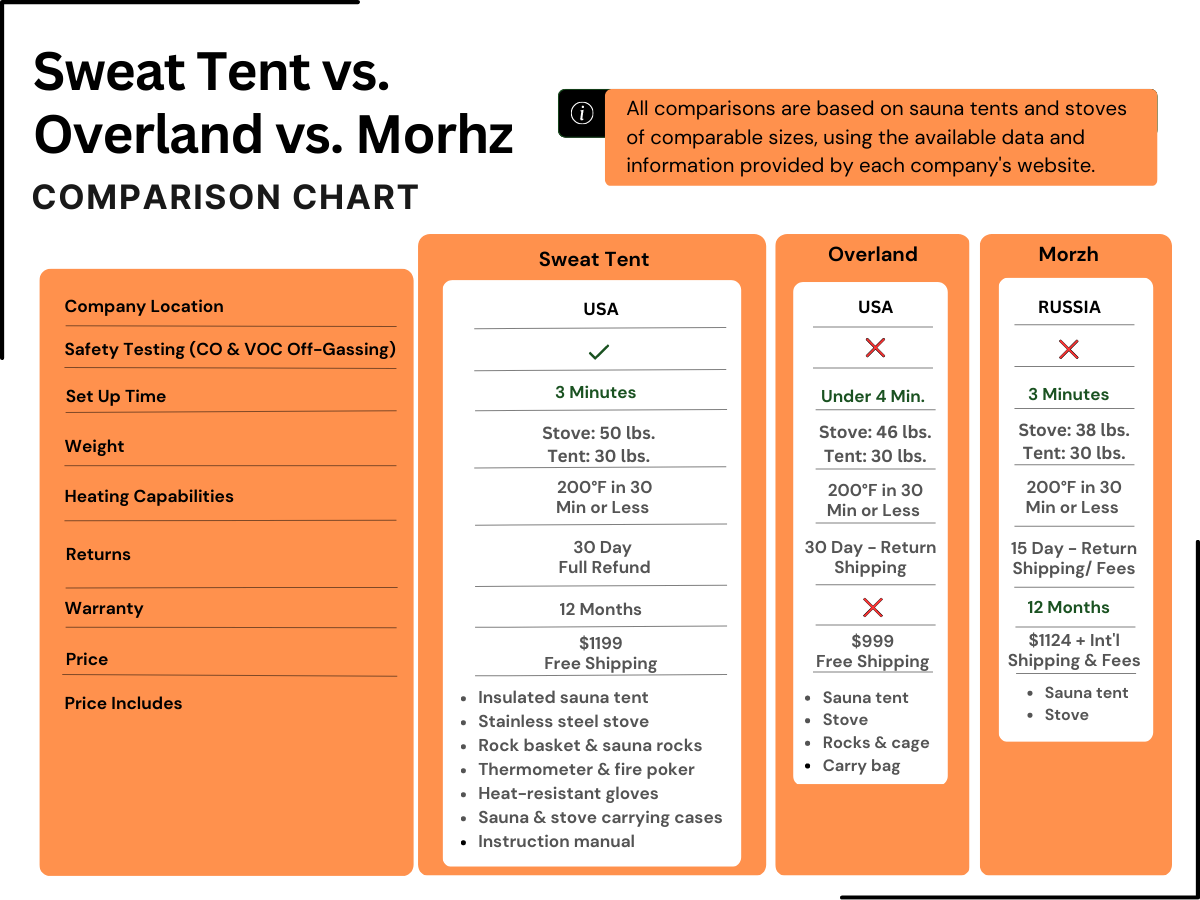 Sweat Tent vs. Overland Sauna vs. Morzh | Sweat Tent™
Sweat Tent vs. Overland Sauna vs. Morzh: An In-Depth Comparison
Are you looking for a way to bring the benefits of a traditional sauna into your backyard without breaking the bank or compromising on quality? With recent innovations, sauna tents have become a popular and health-forward option for those who want to improve their wellbeing from anywhere. But with so many options popping up, how do you know which sauna tent is worth investing in?


We've done the research, so you don't have to.


Today, we'll be comparing Sweat Tent, Morzh, and Overland sauna tents to see which one comes out on top in terms of safety testing, materials, heating capabilities, set up, returns, warranty, and value.
Sweat Tent vs. Overland & Morzh: How They Compare
​
Sauna/Tent Weights & Dimensions


Sweat Tent: 6'x6'x7' / 30 lbs.
Sweat Tent Stove: 20"×12" / 50 lbs.
Overland Tent: 5.9'x 6.9' / 30 lbs.
Overland Stove: 19" x 11" / 46 lbs.
Morzh Cube Tent: 6.7' x 6.7' x 6.56'/ 30.36 lbs.
Morzh Stove: 23.6" x 11.2" / 37.84 lbs.


Sauna Tent & Stove Materials


Sweat Tent Materials


Sweat Tent prototyped for nearly a year, testing various designs, fabrics, and stoves to ensure we deliver the highest quality, safety, and sauna experience to our customers.


The Sweat Tent home sauna tent is constructed of Oxford 210D nylon, a strong and durable fabric commonly used in the medical and sporting industries. We coated the exterior with a waterproof and fire-retardant urethane sealant rated to 300°F, increasing the tent's durability in any weather (the inside of the tent is urethane-free). 


Sweat Tent's windows are made of a high-temperature performance TPU known for its high resistance to wear, abrasion, water, UV rays, and high temperatures well over 300°F. The Sweat Tent stove is a specially constructed design made from durable, double-walled stainless steel that's both extremely powerful and safe to use. While it may be a tad heavier than competitors, its powerful output and durability is worth the extra weight.
Overland Materials
Similar to the Sweat Tent, the Overland sauna tent is made from two layers of weather-proof Oxford 210D quilted fabric with one layer of insulation. The stove is constructed of 409 stainless steel.


Morzh Materials




The Morzh Cube tent is made of what they refer to as a "3-layer material with insulation" and "modern TPU material." Upon reviewing the product, we could not find any indication of what material the cube tent is made from. The stove is made from AISI 430 steel.
Safety Testing

Sweat Tent Safety Testing


One question we frequently get asked is, "Does the Sweat Tent off-gas?" The short answer is no!


Our goal when designing Sweat Tent was to produce a powerful, accessible sauna experience with safety and health at the forefront. As sauna enthusiasts ourselves, it would make no sense to jeopardize our health by breathing in hazardous compounds while trying to improve our own overall health and quality of life through sauna use.


Given the many health dangers of inhaling off-gassed compounds, we knew our sauna tents must be safe before coming to market. The meticulous testing, prototyping, and thoughtful design paid off in the end.


We put our home sauna tent to the test using the highest-quality USA NIST-calibrated equipment from Forensic Detectors, known as the "world's best gas detectors." Test results revealed that when heated to 200 and 215°F, zero concentrations of CO or VOCs were present in the air.


Additionally, our proprietary double-walled stainless steel stove is designed with a built-in spark arrestor and steel-plated chimney vent for safety. We strive to continually improve the safety and efficiency of Sweat Tent, which is why all new stoves are designed with an additional spark arrestor in the form of a chimney cap, as well as a screw-in rock basket.
Morzh & Overland Safety Testing




At the time of this writing, we were not able to find any available testing information for Morzh or Overland tents, so we cannot comment on whether they have been designed or tested for off-gassing.
Set Up & Portability

Sweat Tent


Sweat Tent is designed for a fast and easy 3 minute setup from unzip to fire lit with our special "QuickPop'' tent design and "EasyStack" chimney. The specially-designed stainless steel heater warms the inside of the 6' x 6' x 7' interior to 200º F in under 30 minutes and requires only three fire logs to achieve this temperature. When packed up, the tent and stove weigh under 80 pounds (divided into individual tent and stove carrying cases), so they're easy to transport.


A recent review by Busted Wallet perfectly explains the convenient Sweat Tent design for set up, take down, and ultimate portability. Here's what Gene Mallo from Busted Wallet had to say about Sweat Tent's portability in his Sweat Tent sauna review:
Overland & Morzh


The Overland and Morzh tents advertise their set up-time as four minutes or less, however Morzh saunas do not have our "QuickPop" design.
Heating Capabilities

All three sauna tents are designed to reach 200°F in 30 minutes. At Sweat Tent, we designed our tents with two layers of durable fabric and one layer of insulation in-between. Our tent retains heat in temperatures of 0°F+ without losing heat efficiency.
Cost
Sweat Tent
For $1199, Sweat Tent provides everything you need to start safely sweating, including:


Insulated sauna tent

Stainless steel stove

Rock basket

Sauna rocks

Thermometer

Fire poker

Heat-resistant gloves

Sauna and stove carrying cases

Instruction manual


Sweat Tent accepts all major credit cards, PayPal, flexible ShopPay installment payment plans (6-month, 12-month, and 24-month), and ships free anywhere in the continental United States. Because our stoves burn so efficiently, a typical sauna session only requires about three wood logs, costing an average of $2 per session.


Morzh & Overland


For $999, you can purchase Overland's Sauna and Adventure Kit, complete with a tent, stove, rock cage, sauna rocks, and carry bag. Ground shipping is free with your purchase to the lower 48 states. Overland offers installment payment plans through ShopPay, but there are only 6-month and 12-month options available.


The Morzh cube tent can be purchased for 490 euros (approximately $539 American) and the stove for 350 euros ($385 American). For someone on U.S. soil to purchase a Morzh tent and stove, regardless of East or West Coast location, can expect to pay 200+ euros ($220+ USD), in shipping. This shipping cost does not account for the additional customs and duties to be paid, along with the potential for a tariff charge of 35% on imports from Russia. Currently, Morzh does not offer a sauna tent and stove set available for purchase. The minimum cost to purchase a tent and stove similar to the Sweat Tent or Overland bundle is $1124+.
Returns
At Sweat Tent, we're not happy unless you are. That's why we offer a 30-day money-back guarantee for a full refund. Overland offers a 30-day window to try out the sauna setup, and if it's not for you, they'll take it back for a full refund, minus return shipping costs.


Morzh offers a 15-day return policy, beginning the day you receive your product. However, all return shipping costs to Russia, duties, and any other international fees must be paid by the buyer.


Warranty


Sweat Tent and Morzh each offer a 12-month warranty on its products. Overland's website does not mention anything about available warranties on its products.
Why Sweat Tent?

Whether the most important aspects to you are quality, safety, portability, or affordability, Sweat Tent is a brand that strives to provide all three. Our powerful, portable, anywhere sauna was built on the foundation and belief that better health should be accessible to all who want it. To this end, we've dedicated time and resources to create a truly powerful sauna experience we trust, as much as we recommend.
We pride ourselves on best-in-class customer service, and are dedicated to providing an excellent customer experience. From order, packaging, set-up, and after-purchase questions, our customer service team responds quickly (1.26 hours, compared to a benchmark of 8.37 hours). We also have a 4.9 out of 5 customer satisfaction rating based on more than 50 customer reviews. To date, Overland Sauna tents have no reviews, and Morzh have very few for their most popular Sauna tent options.
Choose Sweat Tent for a powerful, portable, and safe sauna experience that fits your budget, and enjoy the many health benefits of a fantastic sauna experience from home, or on-the-go. For more science-based information about the benefits of wood-fired saunas, visit the Sweat Tent Blog. For general questions, please contact our customer care team today! To see Sweat Tent in action, follow us on Instagram @sweattents!